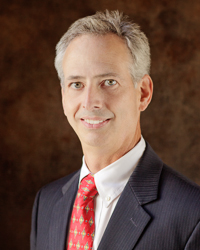 Wills and Estates, Real Estate, Contract Law, Personal Injury and Property Damage Litigation, Municipal and Zoning Law, Commercial and Construction Litigation
Jeff Stover was born in Indiana, Pennsylvania, on February 11, 1957. He graduated from the Pennsylvania State University in 1979 with a degree in accounting, followed by graduation from the Dickinson School of Law in 1982 and admission to the Bar of Pennsylvania in the same year. Jeff is also admitted to the Bar of the U.S. District Court for the Middle District of Pennsylvania, the U.S. District Court for the Western District of Pennsylvania, and to the Supreme Court of the
United States.
As professional affiliations, Jeff is a member of the Pennsylvania and American Bar Associations, the American Trial Lawyers Association, and the Pennsylvania Trial Lawyers Association. In addition he is a member and past president of the Centre County Bar Association, and he is a past President of the Wilkinson-Campbell Chapter of American Inns of Court.
As part of his municipal practice, he serves as solicitor to the zoning hearing boards of State College Borough, Milesburg Borough, Patton Township, Gregg Township, Ferguson Township, Benner Township, Walker Township, College Township and Haines Township. He also serves as the municipal solicitor for the Bellefonte Borough, Milesburg Borough Water Authority, College Township Industrial Development Authority, Union Township and Armagh Township in Mifflin County.   For 1987-1988, he was recognized as the State College Area Jaycees Outstanding Young Lawyer.
Jeff is also very active in the local community. He currently serves as Board Chairman of the Centre Communities Chapter of the American Red Cross, and he previously served on the Board of the American Cancer Society. He has received Volunteer of the Year from several organizations: from the Cancer Society in 1989, from the Centre County Breast Cancer Coalition in 1999, and from the American Red Cross in 2002, and he was presented the Richard H. Baker Leadership Award by the American Red Cross in 2003. He is also a member of the State College Rotary Club, having served as President in 1993-94. In 1998 he received the Paul Harris Fellowship Award.  In 2017 he received the John R. Miller, Jr. Civility Award, given annually by the Centre County Court of Common Pleas.  He serves on the board of directors of the State College High School Wrestling Booster Club.
Jeff lives with his wife, Fariba, and his two sons, Alexander and Adam, in Ferguson Township.
21,455 total views, 5 views today