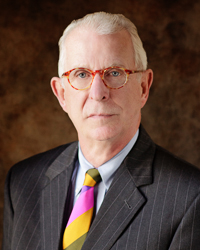 Real Estate, Wills and Estates, Probate Law
Reed McCormick was born in Bellefonte, Pennsylvania, on March 9, 1939. He graduated from Dickinson College in 1961 and completed Dickinson School of Law in 1964. Upon graduation, he was admitted to the Bar of Pennsylvania in 1965 and he has achieved the distinction of admission to practice before the U.S. Supreme Court.
He is a member and past president of the Centre County Bar Association and a member of the Pennsylvania Bar Association. Formerly Reed served as an examiner for the Pennsylvania Board of Law Examiners and as an assistant professor of business law at the Pennsylvania State University.
In addition to his legal practice, Reed has served as a former member and chairman of the Board of Directors for Centre Community Hospital, as well as having served on the Board of Directors for the Centre County United Way, the Centre County Community Foundation, the Pennsylvania State University Agricultural Advisory Council, the Pennsylvania Simmental Association and various other community organizations. His activities have also involved several real estate development enterprises.
Reed now operates Skytop Farm in Patton Township, where he lives with his wife, the former Susan Vipond of Hollidaysburg, and he is the father of three children, two of them following his footsteps into law school.
11,083 total views, 4 views today